Welcome
---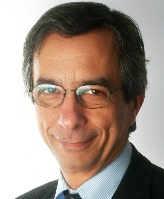 Welcome to the website of the Paediatric Rheumatology European Society (PRES). PRES is a European scientific society for healthcare professionals in the field of paediatric rheumatology. Within this site, you will find useful information about the aims of our society, constitution, membership, the work of the various committees, the annual scientific meetings as well as research and educational initiatives.
Alberto Martini, president of PRES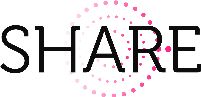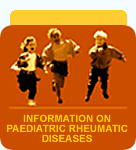 Other events
Join your colleagues for the American College of Rheumatology's 2014 Pediatric Rheumatology Symposium being held April 3– 6, 2014 in sunny Orlando, Florida.
2014 Pediatric Rheumatology Symposium
April 3– 6, 2014

Buena Vista Palace

Orlando, Florida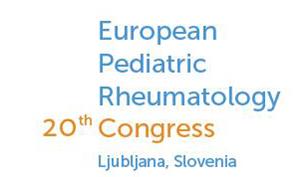 Key Dates
Abstract Submission Deadline Tuesday, January 7, 2014
Early Bird Registration Deadline Friday, February 28, 2014
Housing Deadline Wednesday, March 12, 2014
Advance Registration Deadline Wednesday, March 19, 2014 (after this date, onsite fees will apply)
You are cordially invited to the:
International symposium on translational approaches to autoinflammatory diseases
15th and 16th of May in Münster, followed the 17th of May by a workshop on management of autoinflammatory diseases
For further information please click here
7th Hamburg Symposium on juvenile Scleroderma -
update on new developments
29.11.2014 von 10.00 - 18.30 Uhr im Haus 7, 4. Stock, Auditorium Eilbek
Programme (englisch)
PReS previous courses

Basic Immunology: Fundamental Concepts and Relevance to Human Disease and Therapeutics
Taking advantage of their current appointments, Alberto Martini, Lorenzo Moretta and Abul Abbas, Presidents, respectively, of the Paediatric Rheumatology European Society (PReS), the European Federation of Immunological Societies (EFIS), and the Federation of Clinical Immunology Societies (FOCIS), once again joined forces to organize a two-day intensive training course, Basic Immunology: Fundamental Concepts and Relevance to Human Disease and Therapeutics. Held on May 6 – 7, 2013 c/o the XIV century Villa Quartara in Genoa, Italy, the event proved to be a resounding success, with attendance exceeding the organizers' expectations: originally open to an audience of 75 participants, all told, more than 115 young (and not so young) clinicians and researchers from 20 European countries, and including Brazil and South Africa, took part in the course.
Formatted similarly to FOCIS educational events, which rely on a strong degree of interaction from the audience, the course was addressed especially to residents, clinical fellows and junior physicians seeking to enhance their understanding of the fundamental underpinnings of immunology and how these impact on the pathogenesis and the treatment of human immune-mediated diseases. Course faculty lectured, in detailed but accessible presentations, on major topics in cellular and molecular immunology, including NK cells, macrophages, B cells, T cells and cytokines. As alluded to above, participants had ample opportunity to interact - and were expected to do so -with faculty, both within and outside the lecture hall. Indeed, one key to the success of the course was the continued and committed presence of the entire faculty over the entire two days.
No doubt an incentive to attend the course were the generous travel bursaries available to members in good standing in one of the three scientific societies. In all, grants covering course registration fees, accommodations and full or partial refund of travel expenses were awarded to 53 participants, with more than 30 going to PReS members.
---

---
PReS spreads its wings: ReCAP Mumbai November 2012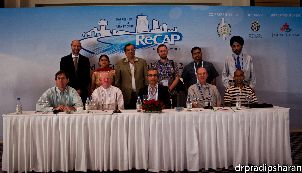 PReS spreads its wings
In an interesting initiative PReS reached the shores of India recently. Refresher Course Asia Pacific (ReCAP), the brainchild of Dr Alberto Martini was held in Mumbai (Bombay) between the 21st and 25th of November 2012. The Rheumatology Chapter of Indian Academy of Pediatrics co presented the event.
Conceived as a training program in pediatric rheumatology for paediatricians and adult rheumatologists in underserved countries, the program was divided into 2 modules –the Basic Course for 2 days at the newly constructed SRCC auditorium overlooking the historic Haji Ali mosque and the Advanced course for 3 days at the opulent Trident Hotel, Nariman Point. 62 delegates attended the basic course and 96 the advanced course with several opting for a combination. A unique feature of the meeting was no industry sponsorship. While PReS was the major sponsor, Hargobind Foundation (a local NGO) and Jaslok Hospital were the other sponsors. Delegate fees accounted for about 30% of the total costs.
The delegates came from far and wide –India to Israel and Libya to Latvia. Indonesia, Kenya, South Korea and Bangla Desh were also ably represented. The faculty comprising some of the leading lights of Europe and India kept the delegates in rapt attention with several sessions which were planned as interactive and with adequate time for audience interaction. A social evening at the 150 year old Bombay Gymkhana further enhanced the camaraderie between the delegates and faculty and everyone left asking "When next ?"
Dr Raju Khubchandani (India)
Organizing Chairman
ReCAP 2012